Here's another behind the scenes that will pique your interest in our digital work. In this edition you'll discover an inspiring human adventure and learn more about our valued client Aréa. For the creative team of WS, web agency in Toulouse, it's a project whose very hip universe has proven very seductive. 
Every aspect of this project was treated with the same intensity that you've come to expect from our team, sensitive to the smallest detail. Getting to know this making of is to get a richer view of the WS touch. Are you up for it?
Who is behind the Aréa team?
Aréa is, above all, a long-time partner. We have worked with them for more than 10 years now! We originally collaborated with the father, then the daughter and the son, always with an extremely trusting and fraternal spirit that won us over and excited us from day one. Aréa is a family affair that we feel a little bit a part of…a privilege that has only meant good things for their digital presence.
We really laid the first building blocks of their website and defined their vision at the same time, during our first meeting in 2002. As usual, we were fully committed and attentive to their specific needs. We were taken by their innovative and enthusiastic spirit from the first handshake.
But Aréa is also (and above all) made up of meticulous, rigorous, precise, and demanding artists, qualities highly-appreciated by our entire production crew. This collaboration resulted in a natural exchange of creative ideas for a result which is, quite frankly, not bad at all! This relationship of proximity and support is WS in a nutshell. At the agency, we immerse ourselves in your language, your way of addressing your targets; we surround ourselves 100% in your field so that the integration of your pages and content is always highly personalized and tailor-made.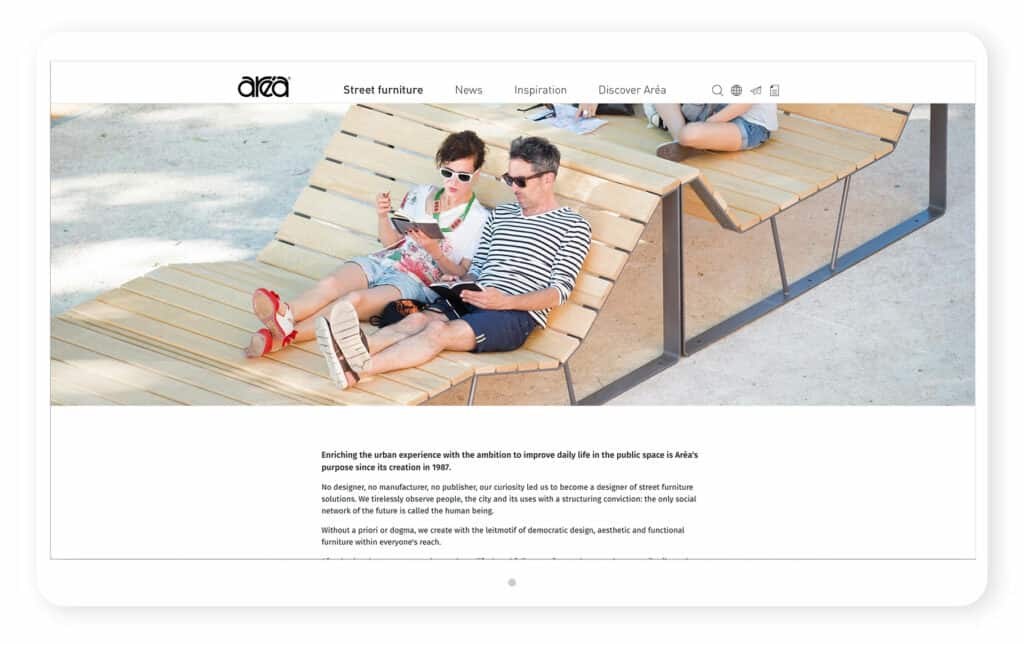 A world apart
Aréa manufactures high-end urban furniture for our cities and, BREAKING NEWS, they are aiming for the international market. Our job has therefore been to anchor the brand in France while creating a visibility that goes beyond its borders. It must be said that this didn't represent an insurmountable challenge because Area, like WS, also focuses on the user experience: whether on the web or in urban areas, the user is at the heart of our design solutions.
Our collaboration has been a good marriage thanks to this common concern for the UX. Today, their website conveys the humanization of their profession. We made it possible by the general presentation of the interface, with refined navigation and graphics created with the user in mind. We are particularly proud of the result of this fruitful cohesion.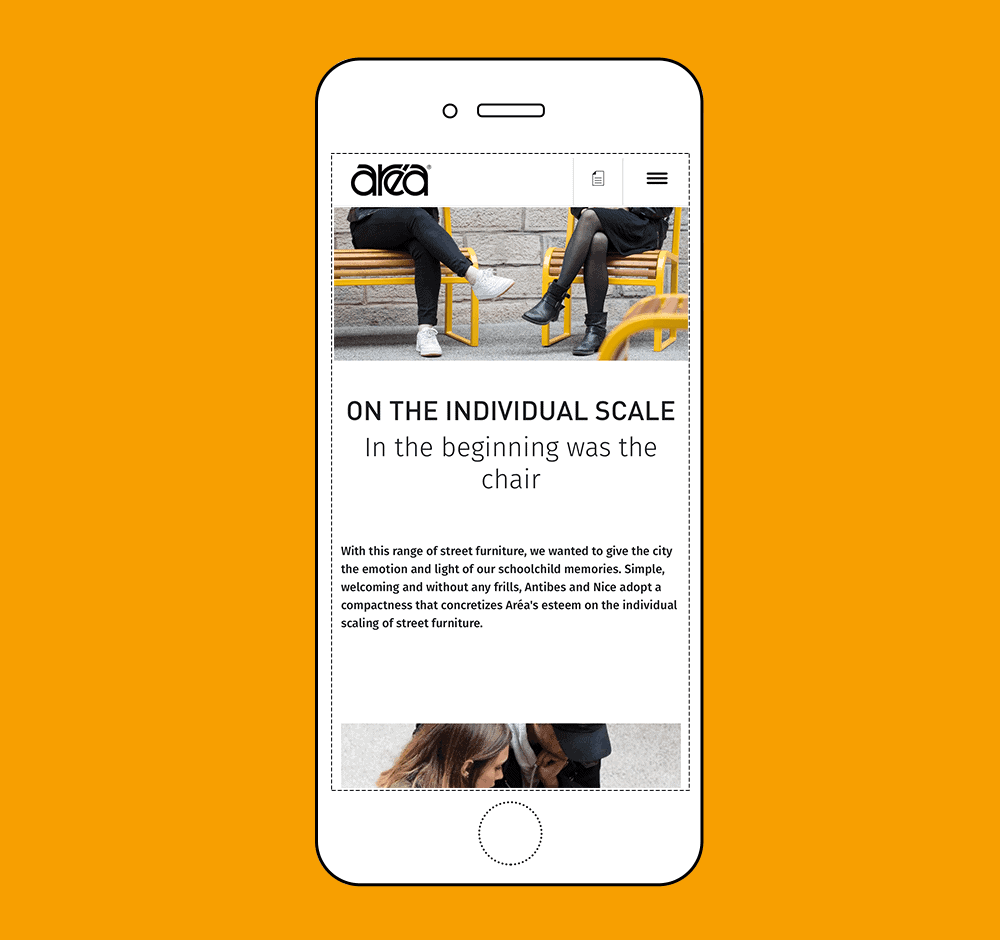 The art of seduction
But we didn't forget that high-end products require a particular treatment of image. For Aréa, this meant making each product shine with visuals and a fluid navigation to maximize their attraction for users of their catalog.
Our web design artists took special care in choosing the visuals to reflect Area's high-end positioning and its human approach to urban design. One might say that content design accounted for 200% of our work because we had to deal with a client who wanted to invest in a rewarding medium above all else. With all the messages that the site had to convey about their activity, their elegance and their quality of work, our focus was naturally placed on graphic design.
We roll up our sleeves
Our team has built a site that allows for full control of the catalog. This represents an unconditional autonomy for Aréa, who can add an infinite number of new products, content, media, blog articles, news and other landing pages!
Our sections come from the inspiration stimulated by Aréa's products, which represent more than street furniture, but a real city lifestyle. Side by side, we were able to participate in harmonizing urban life to make citizens' everyday environment a peaceful, elegant and ergonomic space. A bit like our site and its optimized UX.
Aréa is now able to generate content dedicated to this vision through their site, whose CMS is easy to use and gives them maximum visibility. The clean images are in perfect harmony with the spirit of the brand, and the site in general establishes a perfect cohesion between image, text and calls to action.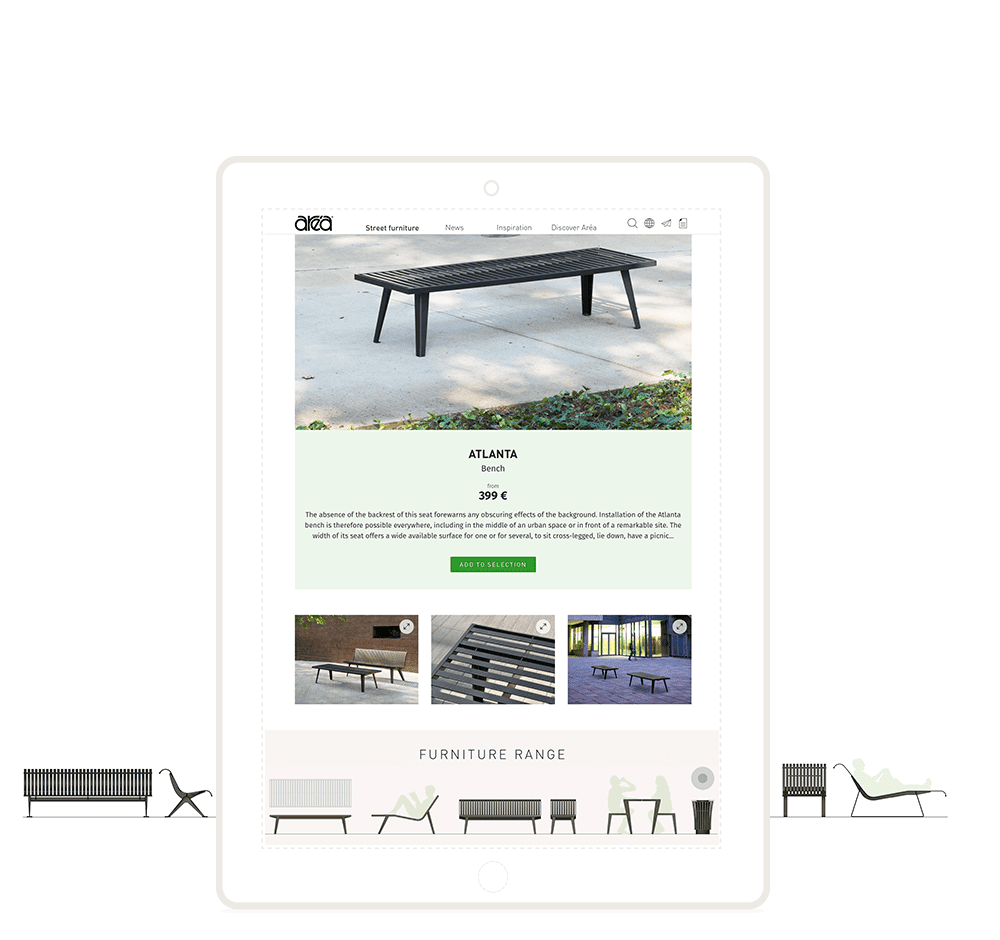 Clearly, it was a fascinating project because we also felt involved in urban life. The entire WS team has taken up Area's goals. We live for dev and the creation of websites where we get caught up in the worldview of our customers. The SEO aspect was very important for them and it was necessary to pay scrupulous attention, because if they turned to us, it's not for nothing. Aréa knew full well that every aspect of their interface would be treated with the highest customization possible.
Partners and proud of it!
It was a real pleasure to collaborate with Aréa for this digital redesign. We fine-tuned the client's project so that the result matched what they wanted, 100%. We always offered a highly tailor-made service and our full dedication to the world of street furniture.
This project, our flexibility and our ability to anticipate have allowed us to provide big-picture solutions, something that few redesigns allow. We loved and shared Aréa's excitement. We hope this enthusiasm, as well as our investment and creativity, is reflected in their website.