The making of Fondation Bon Sauveur d'Alby Intranet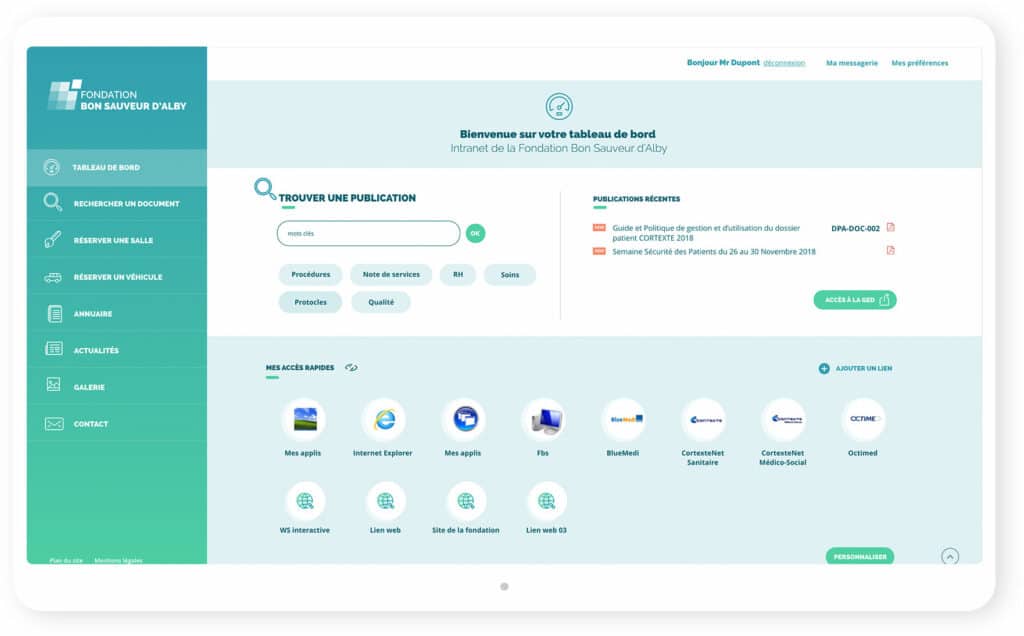 Temps de lecture estimé: 4 minutes
Let's take another look at the great time we had working with the Fondation Bon Sauveur d'Alby. We'd already worked with them: several years ago we reshaped and performed a major digital overhaul of their website.
The making of Fondation Bon Sauveur d'Alby Intranet
Problems related to an intranet
We recently had the pleasure of collaborating with them again, improving their internal communications by redesigning their intranet! It was a big and ambitious project. Expectations ran high…and we didn't disappoint!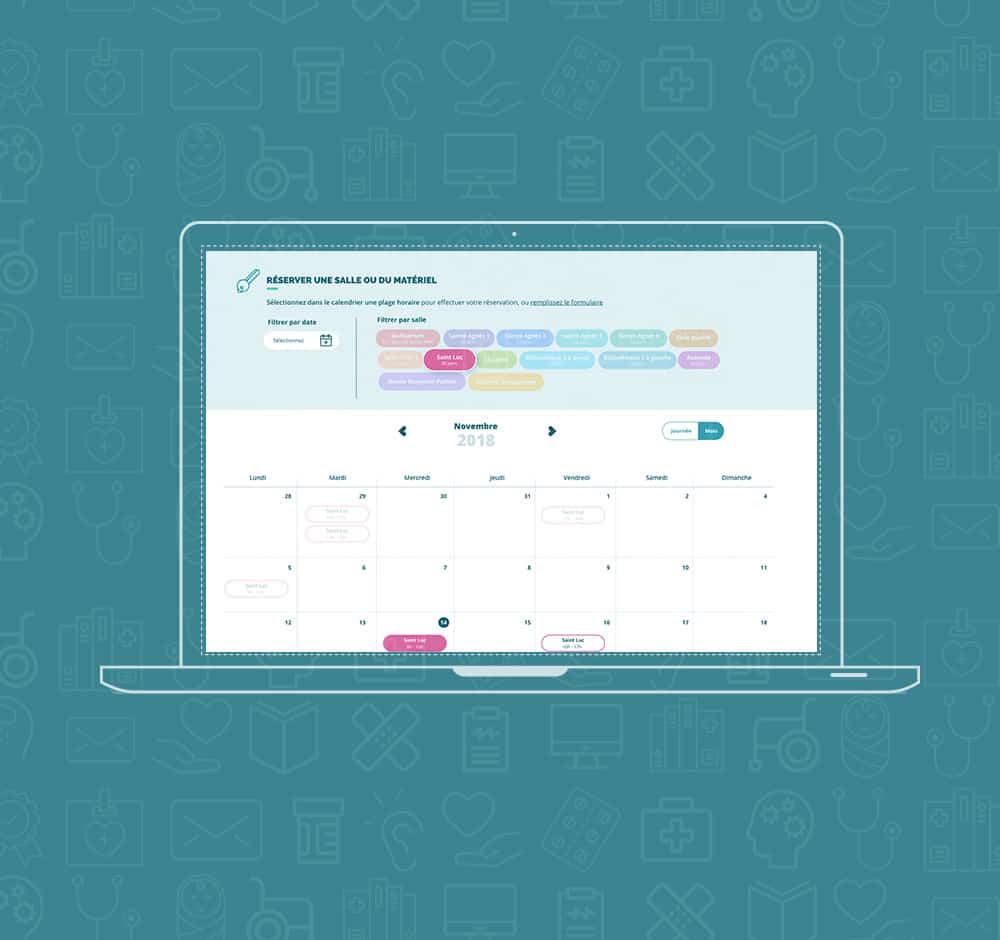 An intranet is an important tool, but it can easily be overwhelmed…and overwhelming. In the case of the Fondation Bon Sauveur d'Alby, their intranet no longer met its users' needs. Over time, its problems multiplied to the point that the staff felt lost in the face of an inadequate interface. The intranet was difficult to access and not intuitive. Using it had become a chore and a waste of time.
An intranet has an inevitable expiration date and becomes outdated relatively quickly without good support. Why ? Because the digital world and its working methods are constantly evolving. The foundation's intranet was created to facilitate staff work but it was no longer helpful. Au contraire, mon frère!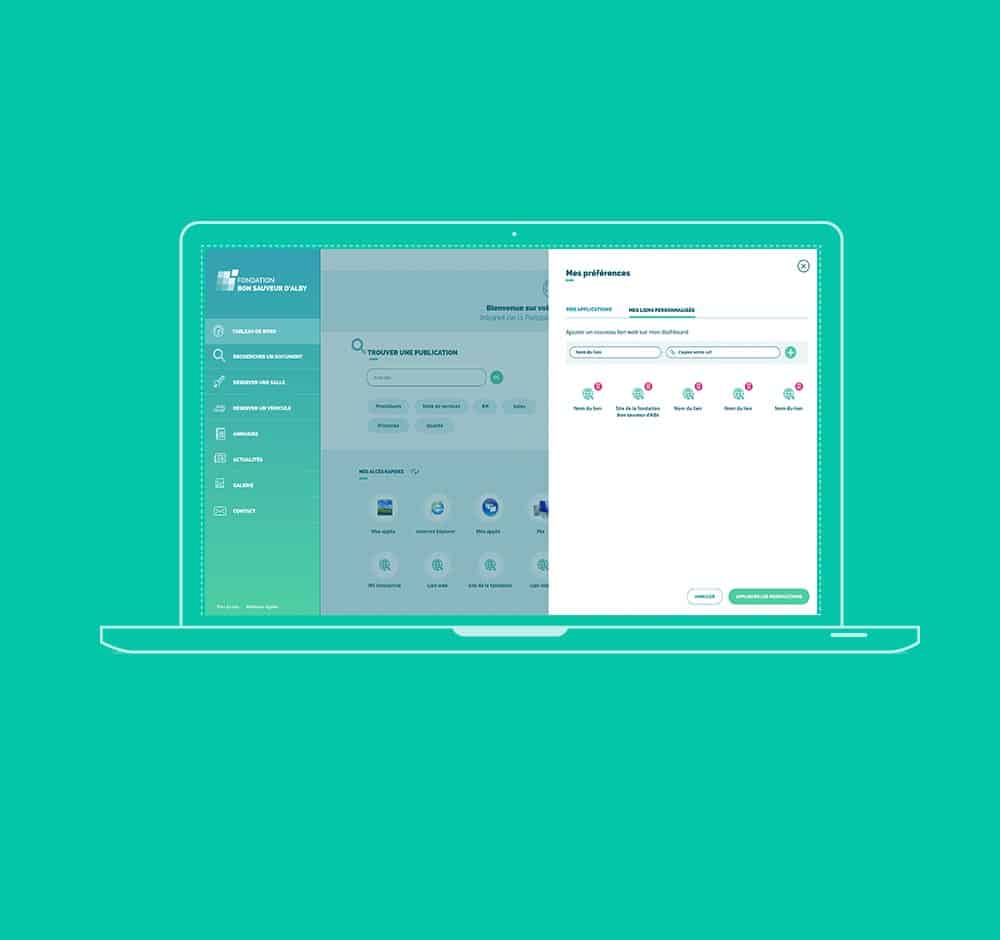 An intranet for better communication and increased productivity
An easy to use, complete, practical intranet should be a tool that makes everyone's work easier. Internal communication is an essential pillar for the proper functioning of the entire foundation. This is a priority for all its doctors, nurses and employees.
Using digital technology correctly leads to better communication, increased productivity, and more efficiency for everyone.
Renewing and modernizing a company's intranet is always important, and it's a long-term mandate! Like we said before, expectations were high.
Unity is strength
For a solid and modern intranet, substantial and total commitment was required on both our part and on the part of the client.
For such a project to succeed, close collaboration must be developed. We had to work together. The client invested a lot of time in managing this project, which allowed us to work more easily…and calmly. The client formed a team specifically for this project which was available to our back & front-end engineers. They had a total commitment to achieving all of their objectives.
Fruitful exchanges…listening…these are the keys for a project to be coherent, logical and successful!
A practical tool for a successful user experience!
A lot of expectations had formed about this intranet. In order to create a tool for managing thousands of documents, we had to develop specific web tools and adapted modules.
On such a project, the technical landscape has to be understood and mastered quickly. The technical constraints are stronger than an internet website because the whole environment is on the customer's premises. On top of that, in this case it depended on relatively old third-party tools. Our team had to adapt. It was a long, meticulous job to personalize Drupal in the most suitable manner possible.
We all made significant efforts to develop logical and intuitive architecture. The user experience for an intranet is as important as it is for a corporate website. We bring the same attention to detail. The user is at the center of our concerns with a well-thought out and studied content strategy. As a result, their administrators are reassured by the ease of updates.
Adaptation without forgetting the essentials; this was a beautiful, complex, and inspiring project that we carried out with style. WS Interactive has once again demonstrated our pragmatism and our ability to listen while providing cutting-edge and original technical solutions.