Optimize your web referencing: SEO, SEA, SEM, SMO…the tools to know!
Estimated reading time: 9 minutes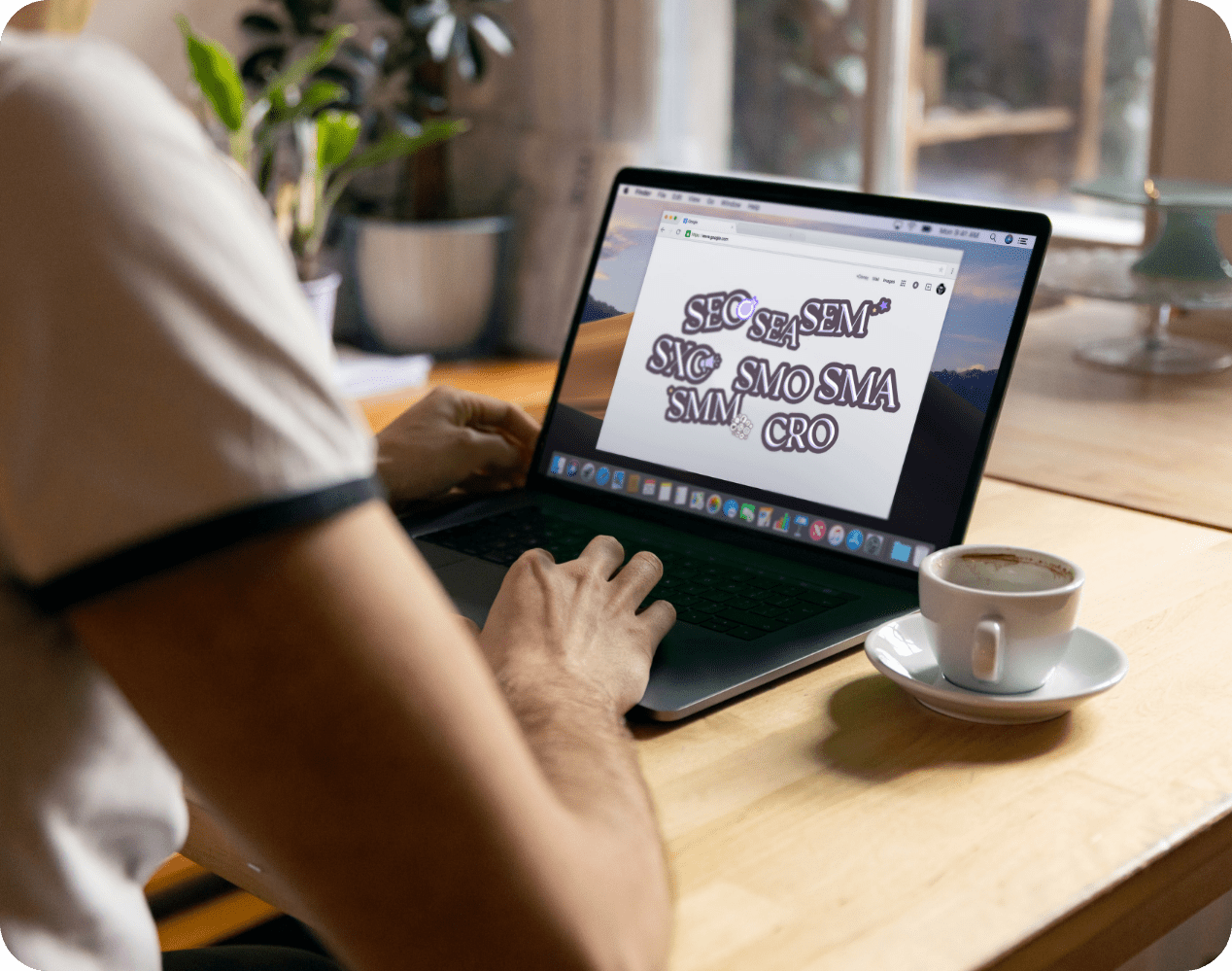 Understanding SEO: between SEO, SEA, SEM, SMO, SMA, SMM and other tools for the optimization of your website
Between SEO, SEA, SEM, SMO, SMA and many others, you don't know where to turn? WS reveals you all the secrets of SEO !
SEO, SEA & SEM: all the expertise of referencing for your website
You want to dive deeper into the world of web referencing?
SEO, SEA, SEM and SMM…WS gives you the keys to optimize the SEO of your website.
Let's start with the basics of web referencing: SEM, or Search Engine Marketing!
SEO : Search Engine Optimization
Depending on your objectives and your situation, a strategy based on natural referencing (SEO) can be up to 6 times more effective than paid referencing (SEA). If its use is now more and more obvious, SEO is not to be neglected!
SEO, for Search Engine Optimization, refers to all practices aimed at optimizing the natural referencing of your site (free) by search engines (Google, Bing, Ecosia, etc.).
As the best known SEO method, SEO is now one of the most competitive areas of optimization. Its optimization in your strategy will therefore require some time before showing its first results. Arm yourself with patience and expertise (yours, or that of your favorite web agency 😉 ) to best manage your SEO strategy!
Your web agency of Toulouse delivers you the 3 levers to optimize your SEO strategy, under all its angles:
Onpage: optimizations on the page directly (keywords, links and HTML of your content),
Offpage: off-page" optimizations, invisible to the user but no less important in the metadata and performance of your site! ,
Offsite: off-site" optimizations, playing on the integration of your site in a universe, its positioning in its market, its theme, its semantic cocoon… and on its relations with other sites in your domain (links and backlinks).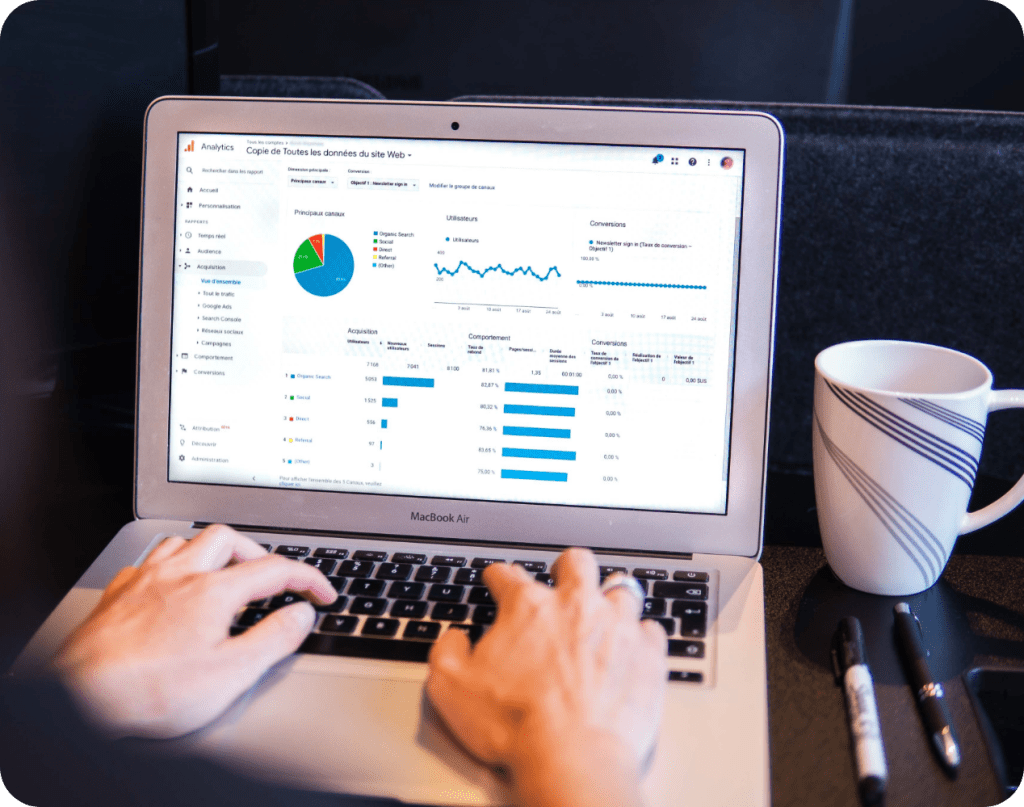 Your tools will differ from one lever to another: technical optimizations for the Offpage, keywords and editorial quality for the Onpage, without forgetting links, social networks and e-reputation for the Offsite…
If the performance of your site is important (server performance, optimization of the code of your site …), the original heart of SEO remains your content (text and metadata)! So make sure you build them with care.
Focusing on the quality of the SEO of your website and web content (be it internal and external linking, meta title & meta description writing, semantic enrichment, backlinks or keyword integration) will allow you to gain reputation and quality traffic.
SEA : Search Engine Advertising
Do you want to increase the visibility of your site quickly and efficiently? SEA is an option to consider.
Le SEA, for Search Engine Advertising, means any form of paid advertising on search engines (example : Google Adwords).
Quick and efficient, you just have to choose a list of relevant keywords to target for your ad and that's it! Your web page will appear directly at the top of the search engine results as an advertisement.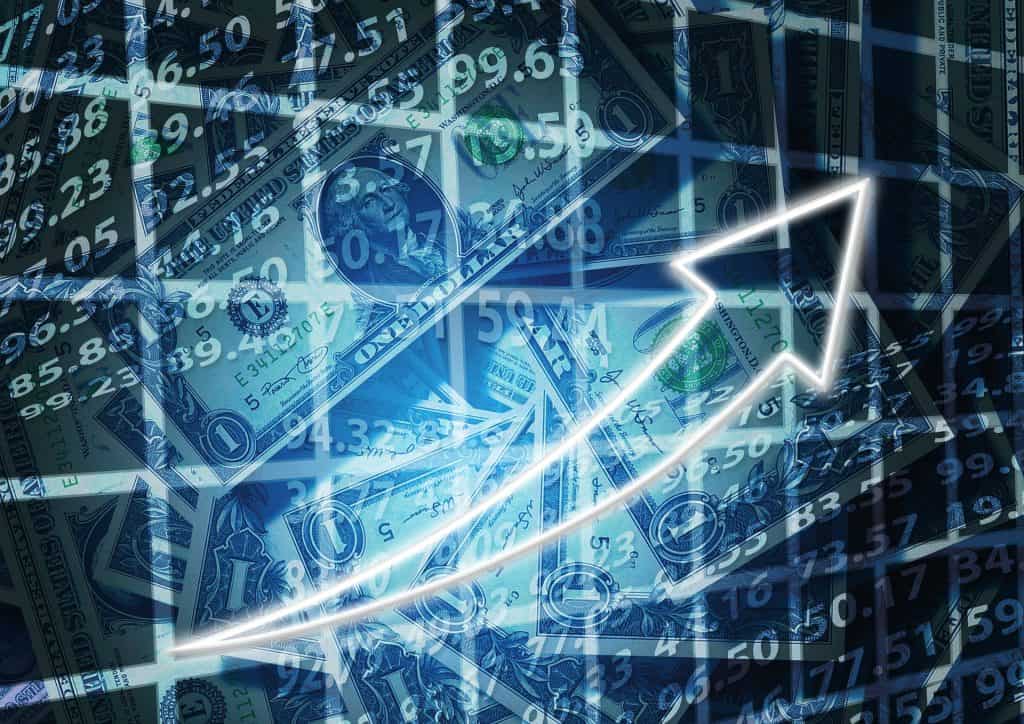 ⚠️ Be careful though!
SEA works like a bidding system placed on the most competitive keywords. A reflection around your semantic cocoon and the positioning of your website is therefore necessary to choose the best cost / acquisition ratio for your SEA strategy.
Please note:
1- Paid search is a digital marketing channel in constant evolution. Don't hesitate to keep yourself informed in order to adapt your strategy (especially with the help of your favorite web agency) 😉
2- Most search engines have their own indexing algorithm. Each search engine algorithm is influenced by different factors, such as the amount invested, the relevance of your ad to the target audience or the click-through rate on your website.
You will have understood that your SEA depends (in part) on your SEO strategy and the overall performance of your site! This is the very principle of SEM 😉
SEM : Search Engine Marketing, build your web referencing strategy
How can you best optimize the referencing of your site?
By developing a SEM strategy!
SEO + SEA = SEM !
Le SEM, for Search Engine Marketing, is THE strategy that mixes the strengths of SEO (natural referencing) and SEA (paid referencing). With SEM, you build a real marketing strategy to establish the positioning and visibility of your website.
🎯SEM objective(Search Engine Marketing) : Get targeted and pre-qualified traffic to increase your awareness in your field, increase your acquisition rate, and even your conversion rate according to your objectives!
Note: Google uses more than 200 factors to rank websites. SEM is therefore essential for your web referencing strategy 😉
The supreme strength of SEO is to put the strategies together! To learn more, find the keys to combining SEO & SEA in our article SEO & SEA : 2 web referencing strategies! .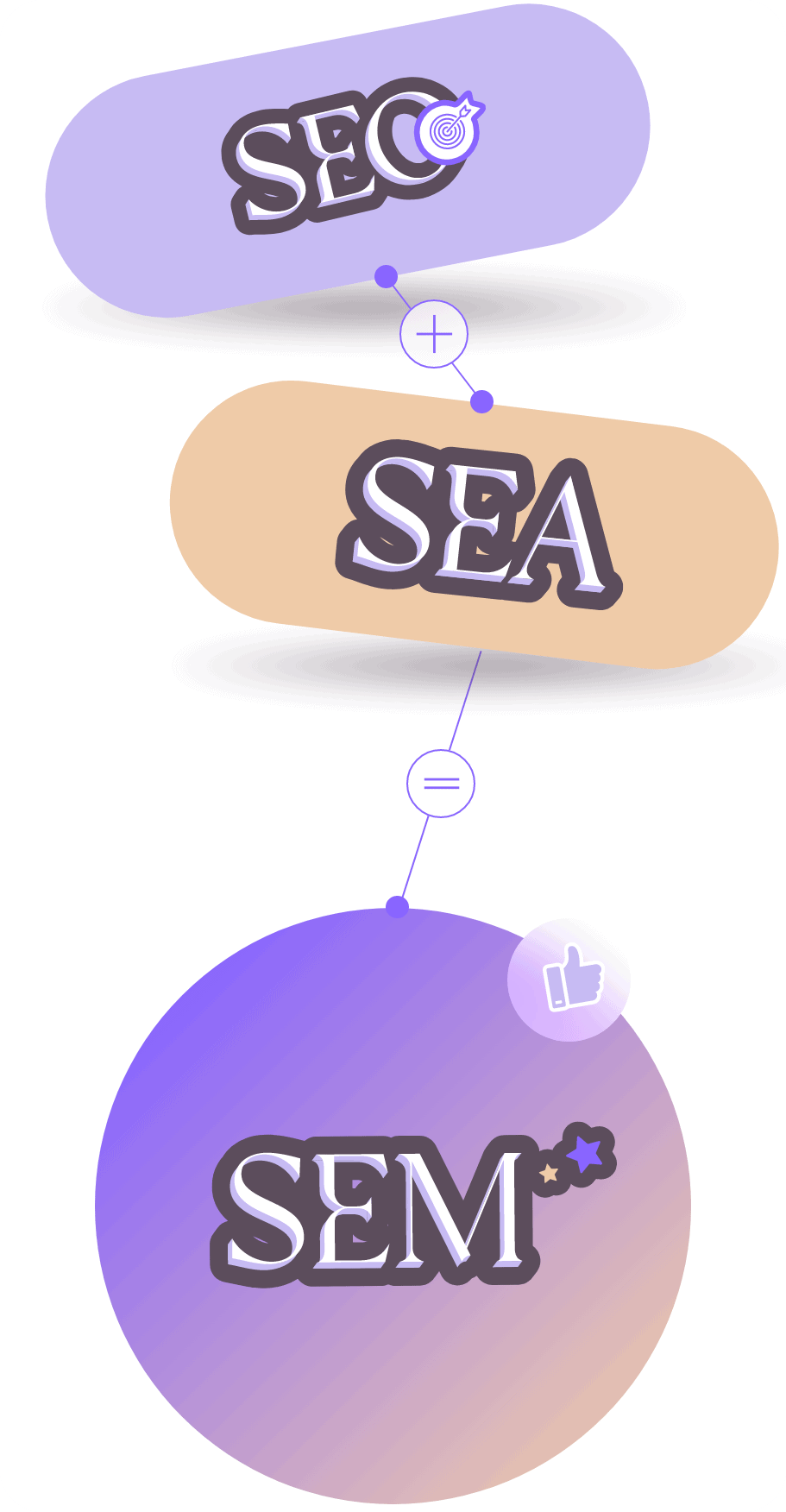 SMO, SMA & SMM : boost your notoriety to improve your referencing via social networks
67% of professional marketers believe that a social media marketing strategy is an essential competitive advantage for your visibility. So why limit yourself to search engine optimization?
And yes, optimizing your social networks can represent a real strength for your structure, in terms of visibility, awareness and positioning in your field!
Opting for a strategy using social networks can help you to :
Follow the news and trends in your field, via information and competitive intelligence,
Strengthen your visibility, to stand out and gain notoriety,
Boost your customer/user relationship by building and federating a real community around your activity,
Generate new opportunities, whether commercial, partnership or event-based…
All this, while also supporting the visibility of your website!
So, ready to take action? Let's discover together the webmarketing strategies based on your social networks!
SMO : Social Media Optimization
81 % of users are influenced by Instagram posts in their buying journey. On the B2B side, LinkedIn reportedly accounts for more than 50 % of social traffic to business-to-business websites.
And more generally, 59,3 % of the world population uses at least one social network. Among your various targets and possible distribution channels, you will inevitably find your happiness!
The SMO is therefore a tool of choice for your marketing strategy.
Le SMO, for Social Media Optimization, refers to all actions that aim to improve the visibility and awareness of your structure through social networks (without using paid methods).
The key element of SMO: the Social Media Strategy, to define your global strategy, your targets, objectives, your editorial line…
Depending on your strategy, the objectives of SMO can be multiple:
Increase your visibility or global awareness
Prospect, build your relationships
Promote your products and services
Create and federate a real community
Generate clicks and leads for your website…
At the level of your website, the SMO encompasses the different actions that can be implemented to bring free traffic to a website, from social networks.
For example: You can broadcast your latest blog post on social networks! The benefit is twofold: you animate your network with your publication, while generating an external link that can boost your web referencing and your acquisition rate. A double hit!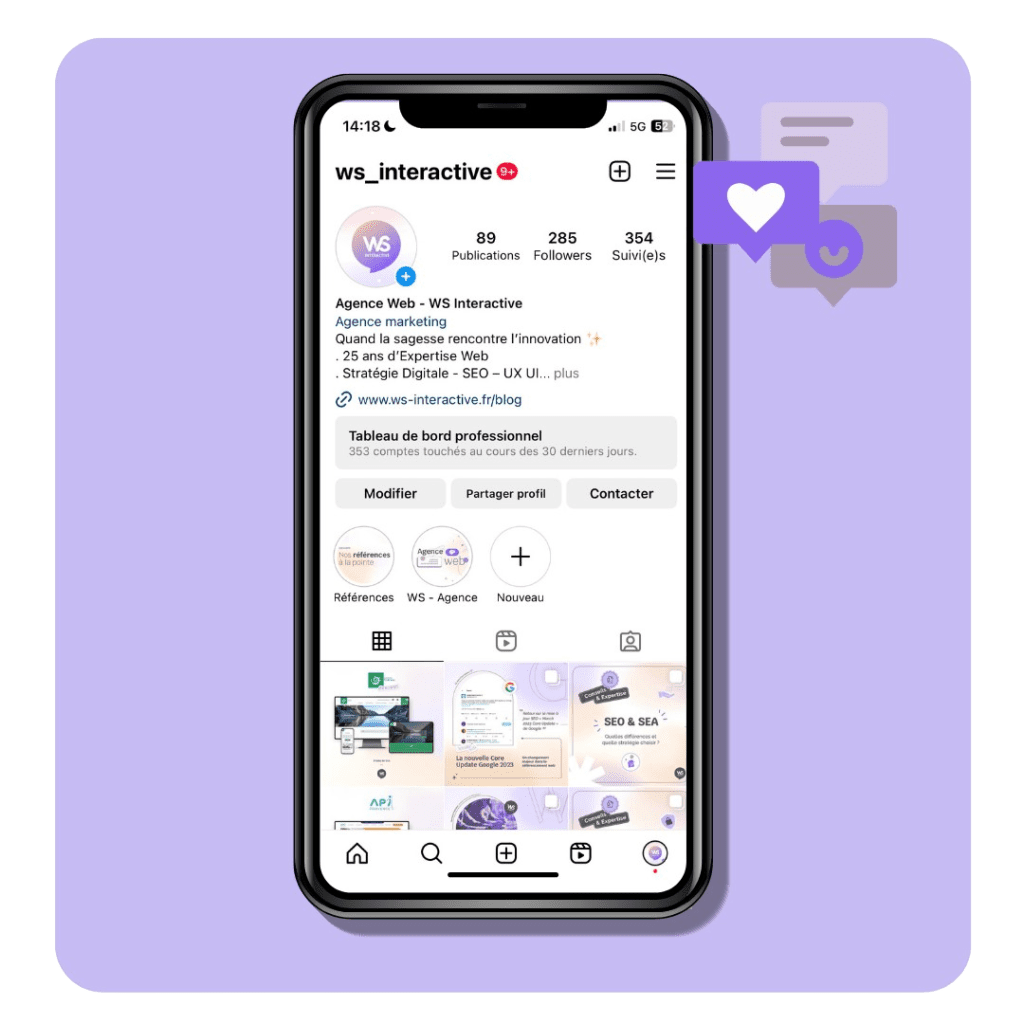 For your website, Social Media Optimization represents an indirect SEO strategy 😉
SMA : Social Media Advertising
Just like natural referencing, social networks, as they become more democratic, become more and more competitive. The equation is logical: the more the number of users increases, the more the number of professional pages and accounts multiply (by attraction for this promising audience) and the more the competition becomes important.
To stand out from the crowd, a boost is sometimes necessary. So it's up to the SMA to step in!
Le SMA, for Social Media Advertising, refers to all the tools and techniques for creating boosted publications or paid advertisements. Their objective? Increase the reach and visibility of your publications on the social network.
You've probably already seen the mention "sponsored" on some posts, tweets or stories that scroll on social networks. Well, that's ADM!
Why use SMA ? To promote an event or a brand new service, to reach a new target audience or to build your positioning, to launch your website… Advertising campaigns on a social network can be used for different reasons. To pursue your objectives, most tools will allow you to target groups of Internet users thanks to different criteria (centers of interest, age, geographical location…).
Use these features to boost your marketing performance!
SMM : Social Media Marketing, the referencing strategy through social networks
How to optimize your visibility on social networks? By combining SMO and SMA!
Once again, combining the strengths of each tool is the key to your success.
SMO + SMA = SMM !
Le SMM, for Social Media Marketing, includes all the marketing techniques to highlight your activities on social networks). By opting for a SMM strategy, you capture your audience and engage users from Facebook, Instagram, Twitter, LinkedIn, YouTube, or any other social media, using native (free), advanced or paid features.
🎯SMM objective : they can be multiple! However, this marketing strategy can be more appropriate to build your e-reputation (online reputation), and then to establish your positioning in your given market / field. Networks are a good place to cultivate your difference and your community!
And to go further? Launch a multi-channel strategy (SEM x SMM)!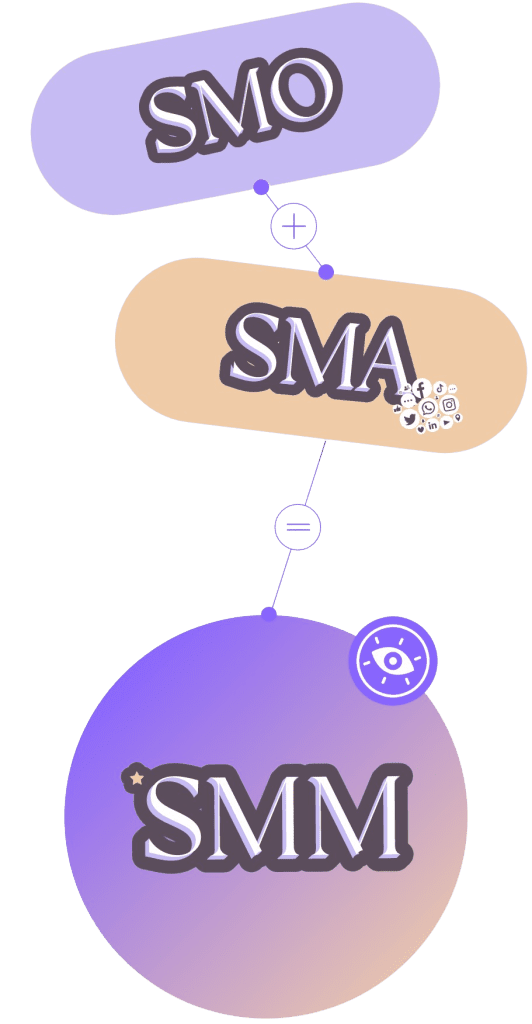 By developing the referencing of your website (SEM) and your presence on social networks (SMM), you opt for a multi-channel strategy, with a wide spectrum. This type of strategy can be beneficial for your website, as it can help it to be well referenced!
Conclusion

Note that all these SEO tools are closely linked and complementary. It is better to consider them as part of a global strategy than separately: a strategy that focuses on building a synergy between these tools will maximize the benefits for your SEO / web visibility … and for your business (on a larger scale).

More concretely, know that SEA will increase your sales in the short term, while SMO will allow you to build relationships with loyal customers and SMA will help you attract new customers. So why not combine them all to increase your reputation and build your e-reputation?

You now know how to optimize your marketing strategy, especially to increase your visibility and the acquisition rate of your website. But once attracted to your site… do you know how to keep your users?

To learn more about the importance of user experience (UX) in acquiring, retaining and converting your users, visit our blog post dedicated to the importance of UX in SEO!

If you want to be accompanied in your digital referencing strategy, contact your favorite web agency. Because with WS, improving the visibility of your digital tools becomes easier!