Let's take a look at our collaboration with Terres des Confluences so we can give you some details about the project and how it progressed.
Because this project has such a special place in our hearts, we decided to dedicate an article to what attracted us in the first place. So, let's go!
The Making of Terres des Confluences
It all began with a call for bids…
WS Interactive, a web agency in Toulouse, has responded to offers in the public sector since day one. Why? First of all, because we are more than familiar with how the sector works. Secondly, because our tools and way of working correspond perfectly to the sector's demands.
"But what's so special about working in this environment?" you might ask.
Well, for us it's principally about a strict respect of the specifications of our customers, combined with advice and personalized support. For public-sector digital projects, these aspects are not always expected.
So when we talk about bidding, we're talking about open and potentially tough competition. WS took up the challenge and invested its resources to create a detailed offer based on the specifications of Terres des Confluences.
The main difficulty with communities in terms of bidding is that there is not always a face-to-face meeting to respond to the demand. We must know how to present our approach clearly in a written proposal that details our methodologies and then justify them. If (and only if!) we are short-listed, will we have the opportunity to present our vision of the project in detail.
Our interest in the TDC project works on several levels:
its proximity to Moissac in Occitanie. WS has worked in this region for a very long time.
our diverse references in the public sector and our specific know-how in their world.
the desire for innovative and creative solutions was clear in their specifications.
In other words, it was a request that suited us perfectly. Following the customer deliberation process, WS won the project and received their official decision letter. The WS team then began a long process of preparation.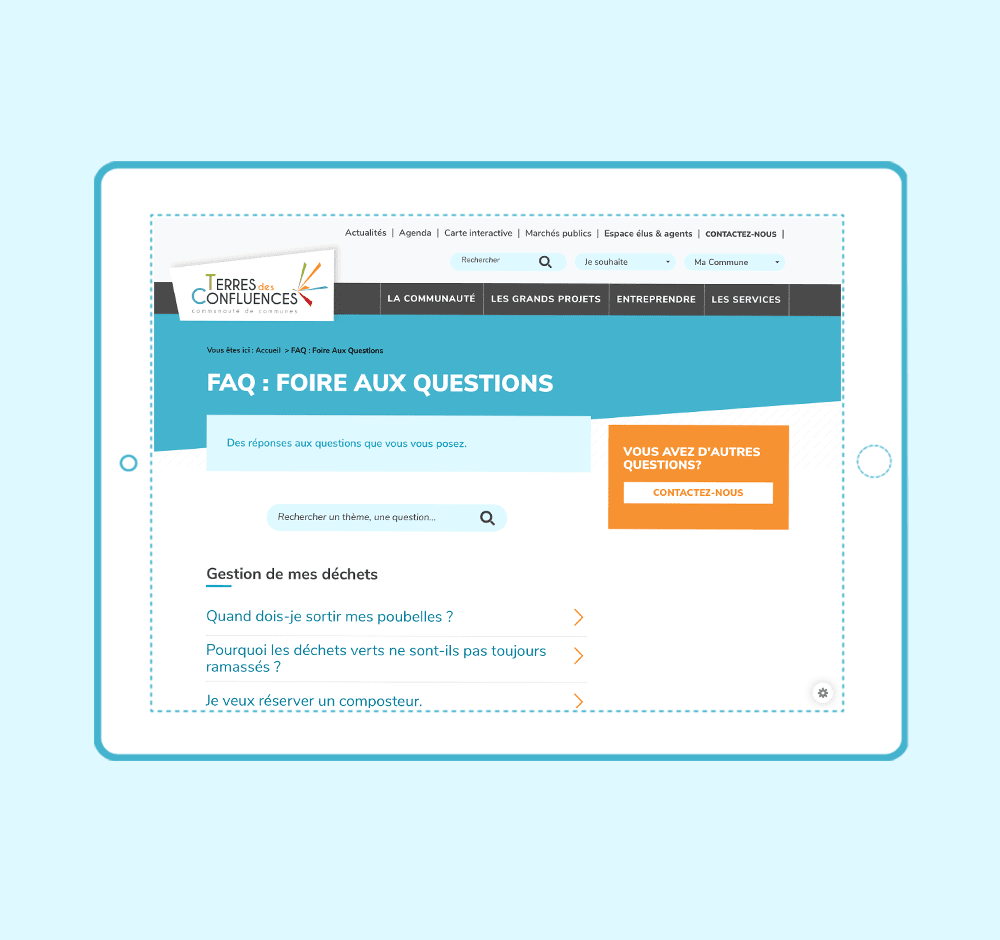 We set up a workshop to work together on the content strategy of TDC's new website. Content was at the heart of this workshop.
We brought together experts from each administrative department, their project manager, the director and our team. This workshop provided the Terre des Confluences team with the keys and resources to structure the content of their site, and only then start to draft it.
The brainstorming during this workshop was very important as it clarified how the project's objectives could be achieved.
A WS web agency workshop is really about sharing our experience in digital strategy so you can structure and prioritize content…and put the user at the heart of it all.
Our way of working and our rigor
Once these basics are established, the remake work takes on its full scope. Our team worked from TDC's specifications so that their site perfectly represents the institution and meets its objectives.
Want to know more? Read our beautiful Terres des Confluences reference and share our enthusiasm for innovative projects!