Web performance tools: how to evaluate your website?
Estimated reading time: 7 minutes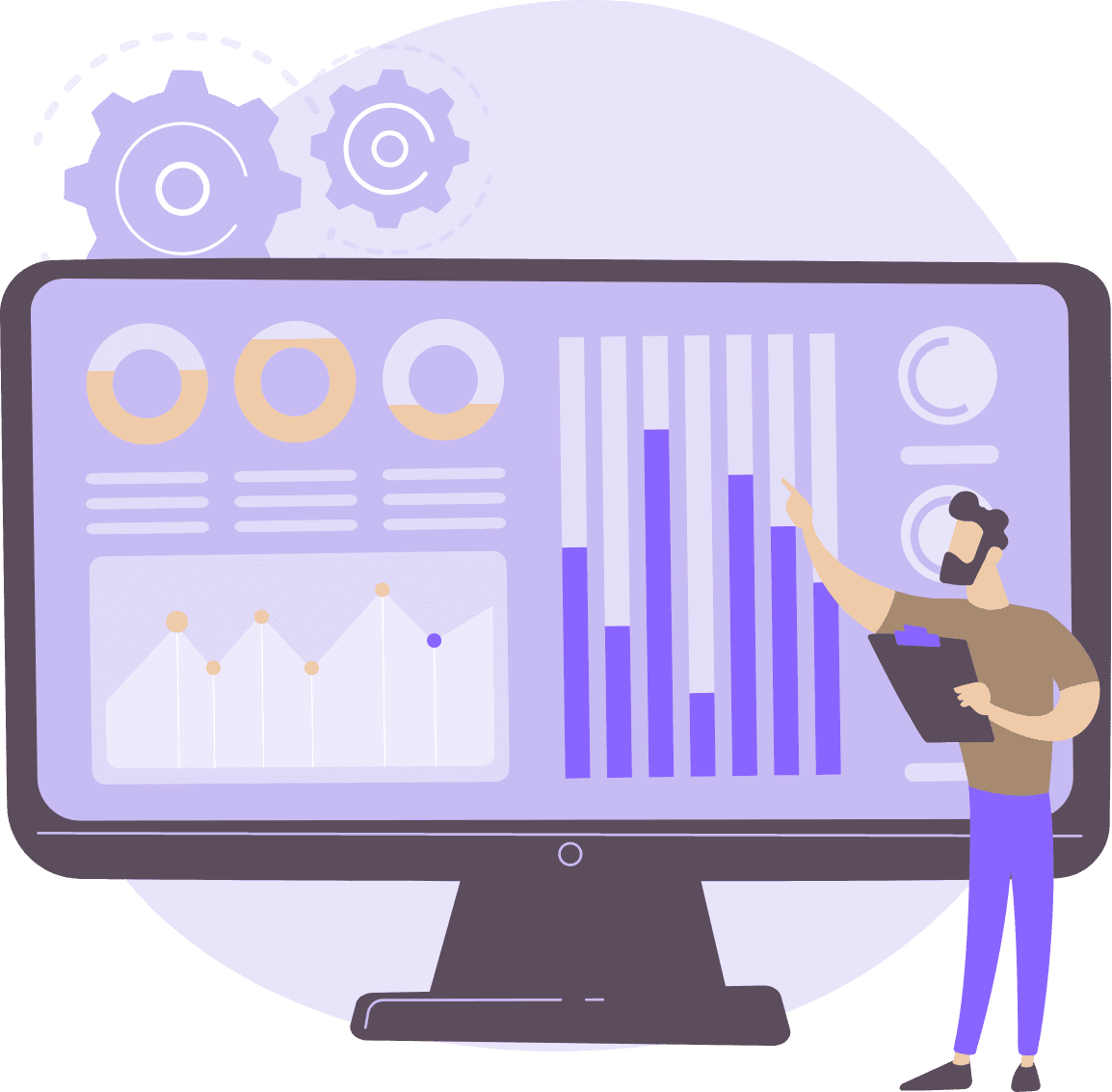 Web performance tools: how to evaluate your website?
Web performance, how to measure it and why? More than just a technical aspect, it's also about the effectiveness of your UX, SEO and website traffic. Between scores, tools and measurement indicators, the web agency helps you clarify all this!
Mesurer les performances de son site web
75% of internet users say they won't return to sites that take longer than 4 seconds to load. While this may seem a short time, those few seconds can quickly seem interminable to your users.
Beyond aesthetics, the performance of your web site is an essential factor in ensuring that it is properly distributed and used.
But how do you measure performance? What tools should you use to analyze your web pages, your search engine optimization or your site's loading speed?
The web agency reveals all the keys to measuring the performance and quality of your website!
Tools for measuring the overall performance and display speed of a website
Numerous web extensions are available free of charge to help you keep track of your performance scores:
🛠️Lighthouse: a Google extension (100% free!) to be installed on your browser, which generates an SEO report on the web page visited. It's the tool you need to evaluate at a glance the points you need to correct in order to optimize your SEO.
The audit is broken down into 5 categories (each with a score from 1 to 100), focusing on :
Your website's overall performance,
The accessibility of your site,
Lighthouse can also help you with your Progressive Web App (PWA) and guide you through the best practices for optimizing your site!
🛠️GTmetrix: the tool that lets you test your website's performance in terms of resources and responsiveness (loading time, server requests, code optimization…)! .
Our advice? For good performance on your site (read: for a fluid user experience), your key web pages should display in less than 1.2 seconds and have a grade of A.
Is your site slow? Is your performance declining?
Take a close look at the weight of your pages and the capacity of your server! This is one of the first reflexes you need to understand the origin of a performance problem.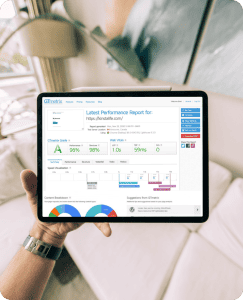 Using these 2 tools is a good way of regularly monitoring the performance of your websites and taking action as it evolves. Don't neglect your scores! And if you need help, contact your web agency 😉
Analyze your site's user experience (UX)
Your website's performance goes hand in hand with the quality of its User Experience (or "UX"). It's important that your users simply navigate your website.
To this end, WS shares 2 tools for analyzing and optimizing your user experience (UX):
🛠️Hotjar: a heat map (in other words, a schematic representation of browsing data in "hot and cold weights") which enables you to analyze the browsing habits of visitors to your website. The aim is to detect hot spots and areas of friction on your pages. Thanks to this tool, you can visualize trends in user behavior. And to take it a step further, mouse tracking and session recording (anonymous) will enable you to analyze your users' actions in greater depth!
🛠️Google heart UX Framework: a best practice tool based on 5 key principles: happiness (what criteria motivate your visitors to come and interact?), engagement (do your visitors become active users of your site?), user acquisition and retention (do your users stay and return to your site?)… not forgetting the success of your page/website's mission (e.g. how many people failed/succeeded in filling in a form to the end?).
Don't forget: a user who has a good experience when first browsing your website is much more likely to return. So don't neglect your UX! To boost your performance, make sure you include UX in your qualitative analysis of your website.
Analyze your web traffic and SEO with the advice of a web agency
Performance means technical optimization, improved UX… but also good SEO practices!
While the technical performance of your website is essential to the life of your site, it's just as important to boost your SEO to improve your traffic.
So let's take a look at how to evaluate your SEO performance, so you can develop it further over time!
Les Key Performance Indicator to track your SEO performance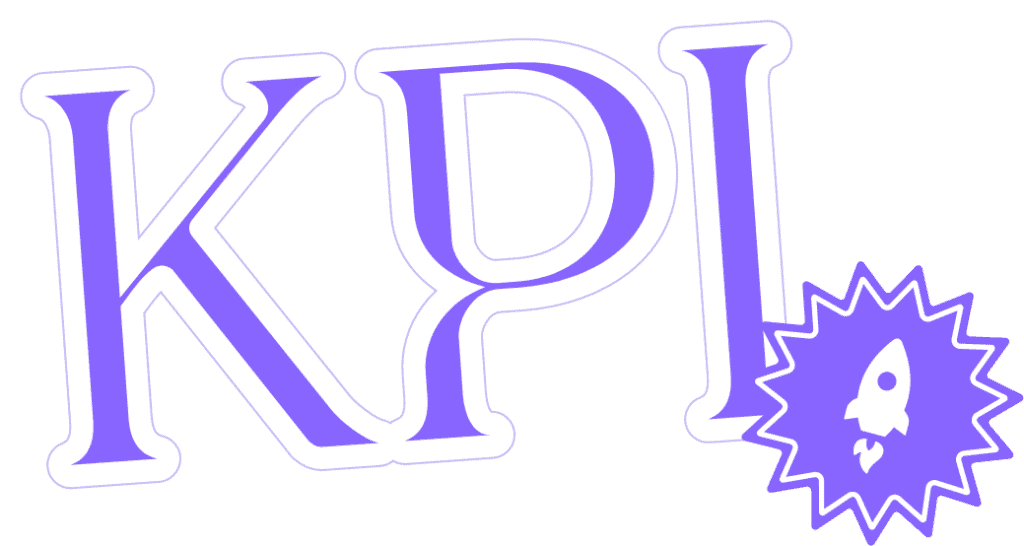 The easiest way to calculate your website's SEO performance? Define and track key success indicators(KPI)! 
But which ones to choose? Your Toulouse web agency advises you on 7 KPIs to monitor in order to track the progress of your natural referencing: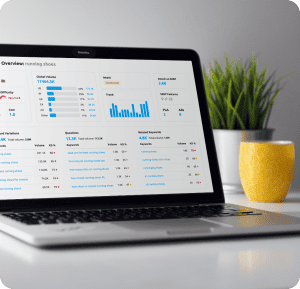 1- Position by keyword (the most relevant to your industry!),
2- Organic visits and traffic share,
3- Quantity and quality of inbound and outbound links,
4- Bounce rate (in other words, the proportion of visitors who leave the site after consulting just one target page),
5- Length of time your users spend on your site,
6- Most visited pages,
7- Referring domains and backlinks.
Reminder: Don't forget to analyze the relevance of the keywords you use and the positioning of your pages in search results, according to the target queries 😉
Tools to measure your website traffic
Defining the Key Performance Indicators to be analyzed is all well and good, but knowing how to qualify and improve your traffic is even better!
There are many tools and criteria for analyzing website traffic. Our web agency is familiar with them, and uses them on a daily basis to monitor the evolution of its websites.
WS presents its key tools for analyzing your website's traffic and ranking:
🛠️Google Search Console, a free tool that lets you check the status of your internal and/or incoming links, as well as identify URLs that aren't working. Google Search Console can also help you analyze the indexing of your pages and search keywords…it's up to you to find out!
🛠️Google Analytics(GA4,
formerly UA) to analyze the audience (with paid and free searches) of your website. GA4's comprehensive (if not complex;) features enable you to build tagging plans, refine click-through rates, identify under-performing pages, CTAs (acquisition rates) that convert less than others, least-viewed pages…enough to analyze your website's session data in depth, for better optimization!
Its weak point: respect for your users' privacy, and its rather limited compliance with the General Data Protection Regulation (RGPD). In contrast to Matomo…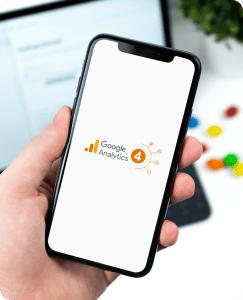 🛠️Matomo Analytics, a web tool that lets you measure your site's overall audience while remaining fully compliant with the RGPD!
Bonus? Matomo is one of the few tools certified by the CNIL and authorized not to rely on your users' consent to track your site's statistics. This simplifies the tracking of your users, while respecting their privacy (thanks to anonymity) 😉
🛠️Semrush: a paid tool that provides information on the keywords for which your site and your competitors appear in search results, as well as on backlinks, the most popular pages and a complete audit of your site's SEO (with its strengths and weaknesses).
🛠️Looker Studio: formerly Data Studio, is Google's free reporting tool. It makes it easy to visualize data through a host of interactive, customizable graphs. With this tool, you can easily share your reports with your team!
Beyond this top 7, there are an infinite number of web tools and services for measuring and tracking your site's performance. Are there any tools you can't live without?
Now that you've got the hang of web performance tools, isn't it time to start analyzing your website (especially since the new SEO update "Core Update" of Google 2023, released last March)? 
You can also go further by using other, more targeted tools to improve your web performance. Discover them in our next article 😉
If you'd like us to take care of your website, contact your favorite web agency for advice! Because at WS, our aim is to help you build a quality website, to help you boost your business over the long term. 💖